Dental Services - Dental Implants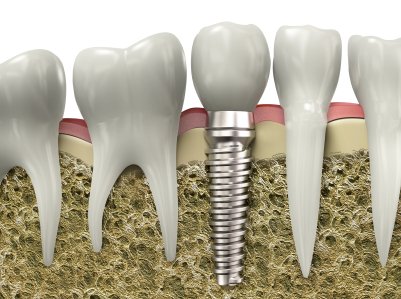 A dental implant is a permanent and very esthetic way to replace a missing tooth.
The process of having a tooth replaced by a dental implant is divided into a surgical phase and a restorative phase. During the surgical phase, an oral surgeon will surgically implant a small titanium cylinder into the jaw bone and cover it with the gums. The patient must then wait 3-6 months for the bone to heal onto the implant.
Next, during the restorative phase, the dentist places a little metal post into the implant and takes an impression of this post. The impression is used by a dental laboratory to create a permanent post and crown that fit exactly onto the implant in the patient's jaw.
Finally, the dentist attaches the permanent post onto the implant and cements the crown onto the post.
While the treatment time to have a tooth replaced by an implant is considerably longer than having it replaced by a bridge, the main advantage of the implant is that the teeth adjacent to the missing tooth do not have to be drilled into simply to anchor the bridge. Both implants and bridges are wonderful ways to replace missing teeth and, both have a place in dentistry. The dentist will help to determine which way is best for each particular patient's situation.
---
Our Dental Services
| | | | |
| | |
|
| |


---