Dental Services - Nightguards Sleep Apnea Snoring Appliances
Many people grind or clench their teeth at night without being aware that they are doing so. If you are waking up in the morning with headaches or sore teeth or jaw muscles, it is likely that you are grinding your teeth while you are asleep.
Scientists are unsure why so many people grind or clench their teeth at night but it is usually thought to be an outlet to release stress. Unfortunately, this grinding has very damaging effects on both the teeth and the jaw joints (TMJs) and can result in cracked and broken teeth and chronic joint pain and dysfunction.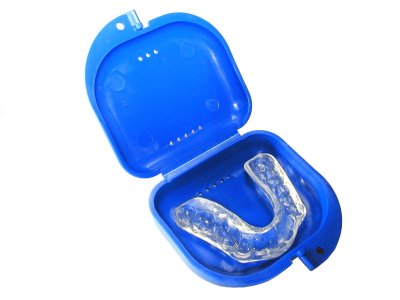 The bite force that is generated by a person grinding their teeth while asleep is many times higher than any chewing force that the person could produce during waking hours. Therefore, in situations such as these, a nightguard is fabricated to protect the patient's teeth and jaw joints from damage. A nightguard is a custom made removable appliance which usually covers some or all of the upper teeth. It is similar too but, less bulky than, a mouthguard that would be worn during sports.

The nightguard, which is made of different layers of hard and soft acrylic, is worn by the patient while they are sleeping and removed in the morning upon waking. It cushions the teeth and TMJ (temporomandibular joint) from the destructive forces produced during grinding and clenching the teeth at night.
Sleep apnea is a condition that occurs when various soft tissues in the mouth and throat fall back during sleep and close a person's airway. This interrupts the person's sleeping causing the person to wake many times during the night. For some people with sleep apnea, an intraoral sleep apnea device helps to prevent this condition, allowing the person to enjoy a good night's sleep.
Snoring also results from a similar mechanism as the soft tissues in the pharynx partially close the airway and vibrate loudly during sleep.
Sleep apnea / snoring appliances work by gently positioning the lower jaw into a more forward position during sleep which helps to prevent these soft tissues from closing the airway, allowing an uninterrupted flow of air in and out of the person's lungs. Nightguards and sleep apnea / snoring appliances are very simple to make for a patient and involve the patient coming for 2 short (15 minute) appointments one week apart.
---
Our Dental Services
| | | | |
| | |
|
| |


---